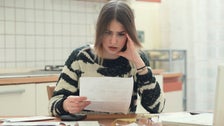 1. Stop contributing to savings.
2. Defer loan payments, if possible.
3. Work out a payment plan with your landlord.
4. Apply for Medicaid.
5. Adjust your insurance.
6. Refinance your auto loan.
7. Downgrade credit cards with annual fees.
8. Transfer your credit card balance.
9. Cut the digital cord.
10. Call up your service providers.
11. Freeze your memberships.
12. Trim your subscriptions.
13. Take stock of your pantry.